It is no surprise to anyone that Tucker is just huge. Weighing in at over 9lbs on his birthday, he continues to grow in the 90th percentile (or bigger). Which means that at not even seven months, he wears 12 month clothes... and is a beast to carry around in his infant seat. He is way too heavy, and about to top the height requirement anyway. And he doesn't sleep in it anymore, for the most part. So I decided it was time to move him up to a convertible car seat, which means a little car seat switcharo here at the Rowe household. Which means I am confused and conflicted about guidelines, rules, what to buy, how to install, how much money to spend, etc.
So I decided to do some research and I am posting it here-- mostly so I can have SOMETHING to show for a few hours of research-- and so I can review it at the next step with these kiddos-- and because it might help someone else. Please hear absolutely NO judgement in this post. I am, by no means, pointing fingers or assuming or making character calls or telling you what to do. In my life right now, Tucker is riding in an expired infant carrier and Dekker has been riding in his convertible car seat in my Civic (which does not have the LATCH system), which I have since learned he has grossly outgrown. A lot of this material is cut and paste from various websites, including mostly the National Highway Traffic Safety Administration and the product websites for the two brands we currently have (Graco and Britix). I am not an expert, just trying to not spend a fortune and still keep our kids safe as we grow to the "next step."
Quick 5 Thoughts on Car Seats:
1. Once in an accident, your car seat has been compromised. Some bloggers and websites suggested that minor fender benders (the vehicle could be driven away from the crash, the vehicle door closest to the car safety seat was not damaged, no one in the vehicle was injured, the air bags did not go off) do not count but anything remotely damaging to the car could be "very damaging and compromising to the car seat." Even if there appears to be no damage to the car seat on the surface, the impact and force of a collision can cause unseen structural damage to the interior of your car seat. Any such damage may prohibit your car seat from properly protecting your child in the event of a sudden stop or crash. Good news though is that time and time again, authors suggested that insurance companies will pay to replace your car seat when you have been in a crash. Heck, it's worth a try.
2. Car seats do expire. I sometimes feel like this is a marketing ploy, especially when you consider that a child's safety is perhaps the most vulnerable thing for marketing professionals to make money off. Based on this research, I am still comfortable using our barely expired (typical life of a car seat is 6 years) infant carrier, and upon inspection the materials still appear to be in good shape, it has not been recalled, etc. I do see some validity to the points below that plastic can stress and can have hairline fractures which we might not see that wouldn't hold up as well in a crash. I once read that sunlight in particular breaks down plastic, especially in cars which are parked outside in the hot sun. That just makes sense to me. According to the Google, here are some of the basic reasons why car seats expire:
Technology Improves and Standards Change. A good example of this is that back in 2002 car seats were not even equipped with Lower Anchor and Tethers for Children (LATCH). Now however, they are a standard feature in nearly all car seats. Car seat expiration dates ensure that seats being used are current and up to snuff.
Materials Wear Down. Car seats were not made to last forever. Overtime the seat base can develop hairline fractures which may shatter in a crash, and belts can become slightly elastic after years of use. Plastic stresses and warps, the Styrofoam can degrade. Straps and fabrics fray and rip. Important instructional labels fade, tear or fall off completely.

If you are still wondering what can happen, check out this crash test video. In the video, the car seat harness breaks through the shell of the seat upon impact.

Only Tested for a Certain Period. After a certain amount of time, manufacturers do not test seats. They cannot attest to how older seats will perform in an accident.
3. The
5-point-harness is easily misused
. I was researching this exclusively for Dekker, because he needs a new car seat for my Civic. I was about to simply buy him a second car seat just like the one in our 4Runner (The
Graco Nautilus
-- which has a 5 point harness but "breaks down" to a high back booster and a backless booster), but I felt like I had vague memories about shoulder straps that I wanted to double check. At first glance, the online manual says that this car seat (with the built in harness) fits children
20 to 65 lbs and 27 to 52 inches. Dekker fits that category. But if you look closer, and actually download the manual and get to the right page-- it also says that shoulders must be at or below the top harness slot (this is for forward facing) and that if the shoulders are above the top harness slot, the child is too big for the built in harness. This was consistent among all car seat manufacturers and websites. But for the life of me I could not find out why it is considered unsafe to have the shoulders above the harness slot. Any ideas out there? I would suggest that if it is important for you to keep your child in a 5 point harness that you do some research as to the height of the harness slot. A lot of car seats advertise and market that they have a 5 point harness "up to 65lbs", for example (as our Nautilus does) or even "up to 85 lbs" as Britax does. BUT that does a mom no good if her child has outgrown the harness height anyway. This reminds me of the infant carriers that go up to 35lbs. I have yet to meet a family who has a baby weighing 35lbs who hasn't outgrown the 32" height restriction on such a seat and who still want to lug that beast around.
It should also be noted that some car seat manufacturers, instead of discussing this in terms of the child's height, they discuss it in terms of "seated shoulder height." Basically, if you have your child sit against a wall and then put a mark on the top of his shoulders and then measure from the floor to that mark. Britix is the most popular manufacturer who details their seats like this. This accommodates torso height, not just overall height, which might help some families make a better decision about when to move out of a 5 point harness.
If I could do it again, I would have done more research on harness height when I bought the Nautilus. There is a pretty big discrepancy. I'm not worried about weight, because my boys will probably always outgrow something by height before weight. Dekker still safely fits into the 5 point harness in the Nautilus, and I am glad about that, but when he outgrows the harness height we will move him to the belt positioning booster. I think with a little more research I could have bought him a seat where he could have stayed in the 5 point harness a little longer-- but I'm not sure to be honest. Which leads me to my next point.
4. If a child is forward facing and has outgrown the 5 point harness (by height or by weight) then the next step is to use a "belt positioning booster." This is the old school "high back booster" and has the little detail at the shoulder to feed the seat belt through. This helps position the seat belt correctly so that it does not end up across the neck, across the stomach, or totally out of the picture in the event of an accident. You have outgrown the "belt positioning (high back) booster" when the child's ears reach the top of the seat, or when s/he has outgrown the seat by weight or height. For example, our Nautilus can become a "belt positioning booster" for a child 30 to 100 lbs and who is 38 to 57 (4ft, 9inches) inches and is approximately three, as long as the child's ears do not go over the top of the back. Dekker barely fits this requirement (but since he also still fits the 5 point harness requirement I will keep it "as is" until he gets too tall).
5. Just recently the American Academy of Pediatrics and the National Highway Traffic Safety Administration set out a few new child restraint recommendations which got a lot of press, jokes, blogging space, etc.
The first recommendation was that all infants and toddlers remain in rear-facing car seats until age 2,
or until they outgrow the height and weight limits of the seat.
(My first question to that is: Which carseat? The infant carrier or the convertible? I assume the convertible because I know very few children who are still in the infant carrier at one, and because they are
only recommended by the manufacturers until age one
.) For our rear facing convertible car seat, the
Britix Marathon
, that means until Tucker is 2, or until he is 35lbs with a seated shoulder height of 16". Just as a reference, Dekker is 35.5lbs, with a seated shoulder height of 18". So if these recommendations stay, that pretty much means Tucker will be rear facing until he is two. Ug, that is a little excessive to me. Then again, this recommendation was made because children's "head and neck are often left free to sort of whip forward in the event of a crash" when they are forward facing too early. And, well, that sounds awful. Maybe Tucker will be "super long torso boy" and will outgrow his rear facing car seat before two. Otherwise, he might end up looking like this. Man, those legs look cramped. (But maybe her head and neck look really supported?!?)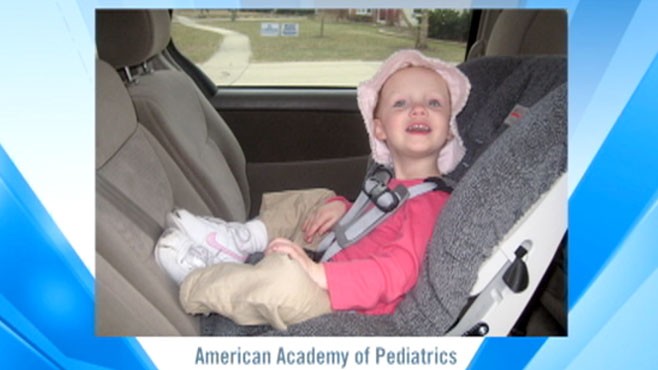 The second recommendation was that the age limit of the booster (age 8) was replaced with a height limit (4-feet-9 inches)-- when experts believe the seat belt should fit properly across the chest and lap. The booster seat is designed to "boost a child up higher so that the car's seat belt fits properly over the child." A high back booster will accommodate a child up to 4ft, 9inches (and 100lbs) and a
"no back" booster
will accommodate a child from 4-10 years old, from 40-100 lbs and 40" to 57" (4ft, 9inches) tall so long as the child's ears do not top the back of the actual seat in the car. So I'm a little unclear if this recommendation is to keep kids in a HIGH BACK booster, or just A booster. Does anyone know? 4ft 9" and 100lbs is the dimensions of some adults, by the way :) There are some pretty clear guidelines about how to know when your child is ready for no car seat, but since we're so far from that I really didn't give it much attention.
It is interesting to note that
Nebraska Law
only requires children to be bucked up until age 6. They state:
The Nebraska child passenger safety and safety belt laws, like other states' restraint laws, are the result of compromises between the "best practice" recommendations of safety experts and provisions that the legislators feel are practical, enforceable, and will be tolerated by the general public and their own constituents. Occupant restraint laws can be considered to be minimum standards.
In the end, we decided to outfit the 4Runner with our "good" car seats-- for interstate and highway travel and for long trips. For Tucker, this means the Britix convertible, rear facing, until he is in preschool (just kidding). For Dekker, this means that he will stay in the Graco Nautilus with the 5 point harness-- until his shoulders are taller than the harness slot.
For the Civic, which will now need two new seats, we are buying a "belt positioning booster" for Dekker. He meets all the requirements and it is $58. I can't see why I would spend an additional $100 for the 5 point harness, if he is just going to outgrow it in a few months anyway. For Tucker, I am likely buying a used convertible car seat from some reliable friends. It is not expired and has never been in an accident. It should be noted that we use my car two days a week, and I transport the kids typically home from daycare twice a week in it. It drives about 10 miles a week with kids in it-- right down Blondo street. But I still believe it needs up to date and appropriate car seats because if I get in an accident I never want to wonder about these things.
You can learn more
here
and
here
.
So there you have it. Sigh.
I'm interested to know what other Mom's think about this issue. I am fairly hyper-diligent about this, maybe boarder line obsessed, and I know not everyone is. Do you pay much attention to it? Does it bother you if a car seat is expired? Why is the 5 point harness
so bad
if the slots are below the shoulders? Will you keep your child rear facing until s/he is basically two? Will you keep your older kids in a booster until they are 4'9"? What kind of booster?
On the journey,
(and buckled up!)
Stef